Japan is a country of contrasts and to the westerner's eye they seem to contradict themselves; they honor tradition while advancing technology, they respect nature and love robots, they like to work hard and...uh...play...er no....work hard. Why is that?

Anyway, in Tokyo you're likely to find beautiful temples, shrines and palaces right next to noisy pachinko parlors and glass skyscrapers. Probably the biggest surprise is that the noisy pachinko parlor won't be heard in the sacred temple and the sacred temple won't even be noticed in the noisy pachinko parlor. Although they live side by side, they couldn't be more of a world apart. For this reason, and because you may never get a better opportunity to see a culture so untouched by the western world, it really is worth it to check out a bit of old Tokyo while you're there.

(pronounced Ah-sah-koo-sah sen-soh-jee) ("ji" means temple)

Old Asakusa Sensoji picture taken circa 1880's-1890s.

Asakusa Senso-ji (sometimes referred to as Asakusa Kannon or Asakusa Temple) is probably the most touristy of the temples, but is worth checking out as it's the oldest temple in Tokyo.

Inside the park is also a well, with a note that this was where Kira's head was washed before they carried it to Sengakuji Temple.

Once the Ronin arrived at Sengaku-ji temple

, they ritualistically washed Lord Kira's head in the temple's well (pictured below)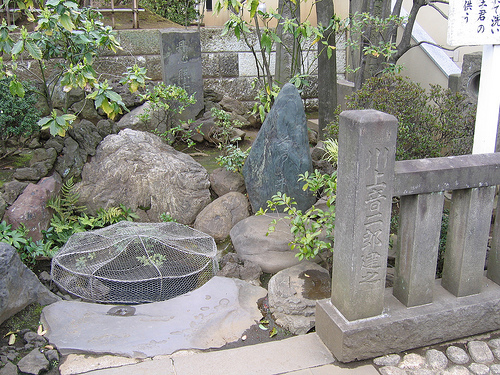 The story of the Forty-Seven Ronin was almost instantly a legend. Even on their march from Lord Kira's palace to Sengaku-ji the news of their heroic deed spread quickly and people stopped them in the streets along the route to offer them rest and refreshment (pictured below).
Two weeks after the ronin died a play opened telling the mostly true tale of the ronin (the fable is commonly referred to as "Chushingura"), fictionalized because the names had to be changed for fear the controversial play would be shut down.
The Ronin became so popular that by the time the Forty-Seventh Ronin returned from his mission to accept his punishment the Shogun took mercy and pardoned him. When the ronin died of natural causes at the age of 78, he was honorably laid to rest at Sengaku-ji next to his brethren.
Chushingara continues to be a popular Kabuki play and has been retold in countless films, tv series and animes. It's Japan's favorite vendetta mostly because it's a glowing example of two of their favorite qualities loyalty and bravery.
Probably the second most popular story in Japan is the tale of ultimate loyalty and friendship. The story of Hachiko.
Hachiko ハチ公
Hachiko was a male Akita dog, born on November 10, 1923 and brought to Tokyo when he was two months old to live with Professor Hidesaburo Ueno (of Tokyo University). Hachiko (see pic below) was a loyal dog and would follow his master to the train station (Shibuya) every morning to see him off to work and in the evening he'd arrive at the station in time to welcome his master back and follow him home.

On May 21, 1925 Dr. Ueno died suddenly during a lecture at the University, but Hachiko arrived at Shibuya station to wait for his master as he'd done nearly every day of his life for two years. When his master failed to arrive, Hachiko made the walk back home alone.
Hachiko was given away after his master's death, but he routinely escaped, showing up again and again at his old home. Over time, Hachi apparently realized that Professor Ueno no longer lived at the house. So he went to look for his master at the train station where he had accompanied him so many times before. Each day, Hachiko waited for Ueno to return.
Hachiko became such a permanent fixture at the train station he attracted the attention of other commuters. Many of the people who frequented the Shibuya train station had seen Hachi and Professor Ueno together each day. Realizing that Hachiko waited in vigil for his dead master, their hearts were touched and many brought Hachiko treats and food to nourish him during his wait.
News of Hachiko's remarkable loyalty eventually made its way outside of Tokyo, and he became something of an iconic figure in Japan. A statue of Hachiko was commissioned and sculptor Ando Teru completed the task.
Hachiko was in attendance when the statue was unveiled to cheers at Shibuya station in 1934 (pictured below).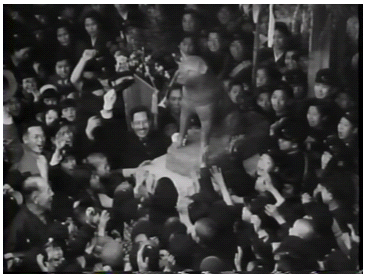 Hachiko became very ill, but despite his hardships he continued to wait.
On March 8, 1935, Hachiko laid down to die in the spot where he had spent a decade waiting each day for Ueno to come home.
During WWII the decision was made to melt the bronzed statue of Hachiko to provide metal for the war effort. In 1948, a plan was commissioned to make a new statue, and Ando Teru's son (who met Hachiko as a child) was commissioned to make the work.
Today, the statue of Hachiko still stands at Shibuya Station as a symbol of loyalty and friendship. Most Tokyoites (when asked to meet a friend at Shibuya Station) will know to meet at Hachiko's statue.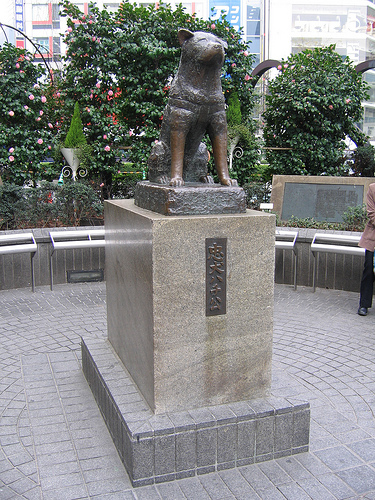 Hachiko's bones were buried next to his master's grave. His remains were given to a taxidermist whose fine work is lovingly on display at the National Science Museum in Ueno (pictured below).