A peaceful oasis in the heart of modern Tokyo, Meiji Shrine is sheltered by a 700,000 square-meter forest of 120,000 evergreen trees, donated from all parts of Japan when the shrine was established.
The walkway to the shrine is beautifully lined with tall arched trees.
Many family shinto ceremonies are held at Meiji Jingu, including weddings, funerals, New Year's celebrations and Boy's day, children's day and girl's day (as shown below).
Below are Meiji shrine's famous ancient camphor trees, decorated with a Shimenawa.
There are countless gardens surrounding the area and it's adjacent to Yoyogi park (pictured below) which serves as a great visiting place on Sundays for its live concerts by local acts, and is also a great place to celebrate the annual Hanami party (cherry blossom viewing party).

Here's a video of our visit to Tokyo Tower in 2010:
Tokyo Tower has two observation decks and a visiting area (called Foot Town) with museums (trick art and wax museums), shops and restaurants.
Main Observatory - First Floor
The Main Observatory on the first floor has a nice view of Tokyo and a window on the floor to see how far up you are, and for interesting photo opportunities. Also on the First Floor is Club 333 (pictured below), which has live bands from 7-9pm on Wednesdays and Thursdays and a live DJ on Fridays from 7:30-9pm. The ambience and music are free with your ¥820 admission to Tokyo Tower's Main Observatory.
There's also a cafe (sign pictured below) where you can enjoy light meals or a cappuccino and a view of Tokyo from a 50 story panoramic window.
On the second floor of the Main Observatory (same admission price) you'll find a souvenir shop, shinto shrine and the entrance to the special observatory.
Special Observatory - For an additional ¥600 fee you can visit the special observatory at the very top of Tokyo Tower, which has amazing views.
If you're visiting at night they have special LED lights set up to make it feel that you're "walking in space", with ambient sounds to assist the effect. :-) So japanese.
While its history only dates back to 1961, it's ensured a place in history with the completion of Tokyo Sky Tree in 2012, a sleek new radio tower, which will stand 2,003 feet in the air (nearly twice the size of Tokyo Tower).
Click here for more details on Tokyo Tower.
Tsukiji Shijo 築地市場 (Tsukiji Fish Market)
Established at this spot in 1935, Tsukiji Fish Market has long been a tourist attraction for those people curious about where all the great sushi in Tokyo comes from. It may not be for everyone as its filled with surly fishermen and shrewd restaurant managers, but it's a great place to see just about every kind of crazy fish 魚 (uo) ....
squid 烏賊 (ika) ...
....octopus 鮹 (tako)....
...and blowfish, wait! that's a display...

ok... here's the honest to goodness deadly blowfish 河豚 (fugu)....
You can try samples too (and even though death by fugu is rare, we recommend you stay away from the fugu), otherwise get the freshest sashimi you've ever had. :-)
Also they have a Tuna 鮪 (maguro) auction (for restaurant owners) open to tourists from 5am - 6:15am daily, check out the YouTube video below:
https://www.youtube.com/v/viTmXuo882g
Of note: This is a very industrious area, with fisherman wheeling around large carts with (literally) tons of fish, so please know that no children are allowed and you can't wear open toed shoes (like sandals or heels). For courtesy's sake, please don't touch the fish (unless you've already bought it) and no flash photography is allowed during the tuna auction (too distracting, but you can bring a camera with no flash).
Imperial Palace - 皇居
It is possible to plan a tour of the Imperial Palace in advance of your visit (use the online english application about a month before you go). Although you don't tour the interior of the palace, you get to see much more of the palace than the typical tourist. Including the lotus moat, the balcony where they Emperor speaks and a remarkable defense tower that was so beautiful, when the capital moved from Kyoto to Tokyo they relocated this building stone by stone. Here's our YouTube video of our tour there in 2010.
Below please find a link with more information and access to an english application to reserve your place in the tour. :-)
https://sankan.kunaicho.go.jp/english/guide/koukyo.html
Imperial Palace - East Gardens 皇居東御苑
The East Gardens are open to the public at Japan's Imperial Palace in Tokyo. The palace itself (seen from the gardens in the picture below), is occupied by the current Imperial family and therefore only open to the public on January 2nd (for the New Year's greeting) and December 23rd (for the Emperor's birthday).
The gardens however are open to the public for free throughout the year during daylight hours 9am-4:30pm, closed only on Mondays and Fridays.
At the top of those 100 steps of purity, you'll see
the gate that leads to the temple.
We visited Ikegami again in 2010, please see the YouTube video below, if you'd like to see more:
A closer inspection of the gate reveals the temples guardians on either side, below you can see the shadowy figures on either side of the gate...

...and below is a close up of Raijin the Thunder God (on the left in the pic above).




...and once safely through the gates (*phew!*), you can see Soshido Hall. The small roof to the right (in the pic below) is the hall's main purification area. If you'd like to know how to use it, please click here.




Inside Soshido Hall you'll find a gilded shrine to pay your respects to.




After you offer incense or a few yen, a quick look around will reveal the location of the ancient five story pagoda which is the oldest (and tallest) original pagoda in Tokyo.

Close to the Pagoda is a nice statue devoted to Nichiren, who died here on a pilgrimage in 1282.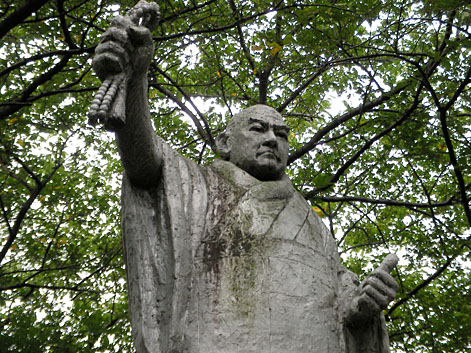 A stroll around the grounds will reveal a much bigger area than you might have anticipated with buildings, gardens, tea houses and monks living quarters. They even have a museum (pictured below).