TOKYO DISNEYLAND
Tokyo Disneyland stands as the only Disney park that's not actually owned by the Walt Disney Company, it's owned by The Oriental Land Company who paid Disney to use their name, likeness and blueprints of the original park in Anaheim to create their own theme park and sweetened the deal by giving Disney 10% of all ticket sales and 5% of merchandise. Today, Oriental Land Company's Tokyo Disneyland is the most visited (and most profitable) Disneyland in the world.
Because it's owned by a different company, there are enough subtle differences to this park that make it an unforgettable experience.
Please see the Disney promotional music video "The Dream Goes On" (celebrating the 25th anniversary of the park), below to get a feel for what makes Tokyo Disneyland unique.
Also, here's a YouTube video from our visit there in 2010:
Since we're fairly certain you have a good grasp of what an American Disney theme park is like, we're just going to highlight what makes Tokyo Disneyland different, by themed land below:
World Bazaar ("Main Street" in the U.S.)
This main street is named "World Bazaar" because let's face it, Main Street U.S.A. isn't exactly Main Street Japan, it's more like a journey into America's quaint past. Here, japanese tourists can stroll through a World's Fair, tasting different foods (like churros and turkey), checking out foreign amusements (like the Penny Arcade and Magic Shop) and listening to American Jazz from a live band. It's all so exotic, right? Well maybe not, but if you grew up on JPop, mochi and natto you'd think this was pretty weird and cool.
Another unique feature of the World Bazaar in Tokyo is the glass roof, there to protect people from the rain and snow (yes, it snows in Tokyo).
Below is a pic of the World Bazaar exit towards the Castle. Notice that there's a Main Street down the middle and buildings that extend far on either side as well. That's because there's a "Central Street" that connects like a "T" to Main Street making it possible to walk directly to Tomorrowland or Adventureland without seeing Cinderella's Castle.
Also, there's no train on Main Street to connect you to different lands. There's a train in Westernland that connects to Adventureland but it's a pretty short ride. It's mostly for show, and not really useful for getting anywhere.
Fantasyland
There are only a couple of differences in Fantasyland, the first is the castle. Although the park it's mostly modeled after the original California theme park, it's been tricked out with Florida's Cinderella's Castle instead of the Sleeping Beauty Castle we know from L.A.

Also, as you can see in the pic below the "classic" style of Fantasyland that looked like a Renaissance fair at the foot of a castle has prevailed over the remodeled Fantasyland's in the rest of the parks. If you've been to a Disney Park before 1985, this will give you an instant flashback while you're there.
The teacups are covered (in case of rain or snow) and they've cleverly hung chinese lanterns from the "tent" above in keeping with Alice's Tea Party. We also wanted to point out that characters play a much bigger role in Tokyo Disneyland than other parks, you'll see them interact with the guests more and even hop on a ride or two. Please see Mary Poppins and Bert on the covered teacups below:

set under the watchful gaze of the Queen's tiny palace...
Every aspect of this restaurant is appropriately themed....
.....even some of the food looks the part.

It's cafeteria style, so you point to the food you want and pay at the register and then an attendant will show you to your table.
Adventureland
This land is pretty much the same with the exception that if you've only been to the park in California you might not know that the Pirate's ride is here instead of in New Orlean's Square.
The only other difference that exists is with the restaurants.
Polynesian Terrace: The restaurant in Tokyo still has a nightly luau. They perform two polynesian shows, one at lunch with Lilo (from Lilo and Stitch) and one at dinner with Mickey and Minnie.
Note: The visitors to Tokyo Disneyland are mostly interested in the shows and parades, it's the main reason they are there so if you do want to book a dinner here and see a show, the reservations for this restaurant must be made a month in advance and on a website in japanese only OR through the concierge at a Disney Hotel if you booked a room. Click the pic above to link to the official page and reservations.
Boiler Room Bites: This is a small outpost of a place that serves comfort food, mainly "donburi". We didn't say "american" comfort food, did we? Donburi (pronounced Dohn-Boo-ree) means "Bowl". A donburi is a rice bowl with a meat, fish or vegetable topping - like at Yoshinoya Beef Bowl. Here they serve such varied toppings as Taco Meat, Shrimp Patties and Creole Chicken. Unlike an American Yoshinoya though they come with a bit of lettuce/cabbage on top and an egg (traditional in Japan).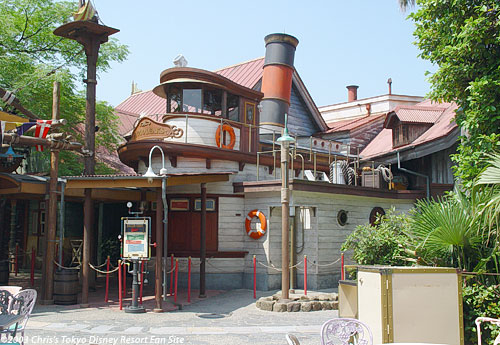 The restaurant is meant to resemble a salvaged and recycled boiler room from the hull of a big ship.
China Voyager: This is a slightly bigger restaurant and serves chinese food, but you won't find dishes like Chow Mein or Sesame Chicken (that's american food). You'll find fried tofu, beef with vegetables and shrimp in chili sauce.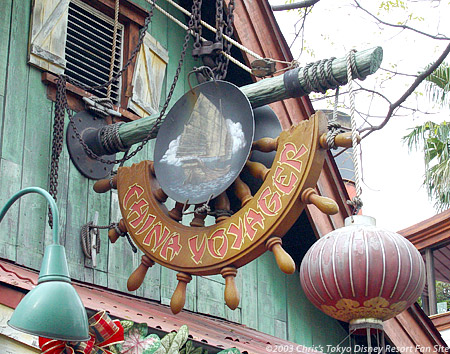 The restaurant is meant to look like a restaurant made from the hodge podge parts of a dismantled Clipper (ship).
Westernland (Frontierland in the U.S.)
This land is called Westernland for the obvious reason that it's from the Wild Wild West of course! What's a "frontier" anyway? The omission of "wild, wild" in front of "west" here kind of goes hand in hand with the belief that any American, at any time, could don a cowboy hat and spit tobacco on a moving target while spinning a six-shooter in each hand. Yep. They could probably hit a tin can with those guns if you threw it in the air, too. That's America for you! Americans don't ride horses mind you, that's ridiculous, we just get on our Harley Davidson's for crissakes!
Camp Woodchuck Kitchen: This restaurant serves some American fare that you might be missing and some new Japanese food that you might never have tried. They have a chicken and waffles sandwich and serve turkey legs. They also serve Onigiri teriyaki sandwiches in the shape of Mickey's head.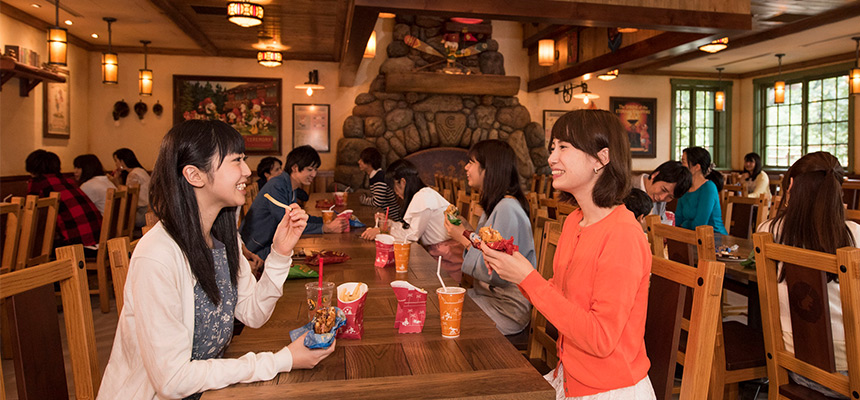 Aside from the fried chicken, it's true that you'll never feel further from home walking through this American-town-of-dreams, but it's pretty cool to see anyway right? By the way, if you are American, we highly recommend meeting the hype by picking up a cowboy hat at the Mad Hatter and gettin' your name stitched right on it. Also, if you're any good at shooting galleries this would be the place to impress quite a few people. Oddly, it's a pretty good feeling living up to the japanese stereotype of an American.
Tomorrowland
Tomorrowland is very familiar but they do have a unique restaurant.
Pan Galactic Pizza Port: This restaurant sells pizza but offers a show of sorts at the same time. Animatronic aliens and video screens show you the progress of your pizza, sometimes an alarm will sound and all hell will break loose but rest assured you'll get your slice of pizza. There are two kinds of pizza, chicken and vegetable or sausage and mushroom. Below you can see the main alien "Tony Solaroni" from the Spumoni Galaxy.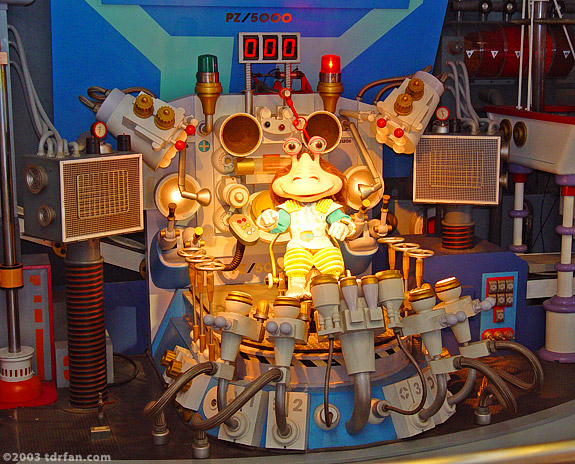 There are some side dishes too, but unless you're a daring diner, please beware of the seafood salad - it has octopus and seaweed in it!
TOKYO DISNEY SEA
東京ディズニーシー
Tokyo Disney Sea is another theme park (adjacent to Disneyland) that's unique to Tokyo. Japan is an island and they've had a long love affair with the sea, so it's a seaside themed resort. With the exception of the Tower of Terror and an Indiana Jones Ride (with a few differences from the one we know) everything else is brand new. Because it's so new we'll highlight a few features using video below and give you a link at the end for more detailed information.
Journey to the Center of the Earth - is a pretty great ride. It's a bit like Splash Mountain-on-land in concept, you travel along at a slow pace looking at all kinds of beautiful scenery, then the enemy comes dangerously close so you speed up and then take a big dip and that's the end. What's unique about this attraction is the shuttle launch that lifts you high up before you take the dip, is almost as exciting as the drop.
Raging Spirits
This is the only roller coaster in the park and has a 360 degree loop in it. It's a short, bumpy fun ride with more turns than drops. It sort of mimics an Indiana Jones cart ride theme. Please see the video below:
Mermaid Lagoon (kid's area)
Even though this is mainly a kid's area it's worth checking out. They've put the rides indoors under a big canopy with the effect that you're under the sea. You can ride on little spinny baby rides and if you're there at the right time you can see a show (while still on your ride) that takes over the entire "underwater" land. Please see a Travel Channel segment about Mermaid Lagoon in the YouTube video below:
For more detailed information on Tokyo Disney Sea, please click the fansite below:
Link: http://www.tdrfan.com/
Disney Resort Line (monorail)
The monorail also goes to Tokyo Disney Sea which might be a better bargain. If you're staying at the resort and plan to go between the parks and also to the hotel, you can buy a one-day pass for ¥650.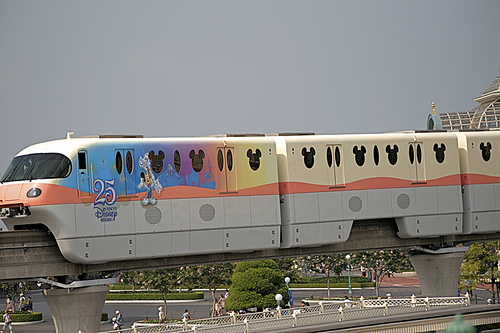 Helpful Tip:
If you're wondering how early to get there, please know that people get to Tokyo Disneyland about an hour before opening and wait.
When the park opens, you have a choice...to sprint to your favorite ride.
...or crowd your favorite character for an autograph & picture
Pricing:
One park - 1-day passport - ¥5,800 (adult), ¥5,000 (teen), ¥3,900 (child)
One park - After 6p passport - ¥3,100 (all)
Getting There:
From Nakano 中野 - Take the Chuo 中央 line or Chuo-Sobu 中央総武 line to 東京Tokyo Station then transfer to
the JR Keiyo JR京葉 line and exit at Maihama 舞浜.
Price: ¥450
Time: 45 minutes
From Shinjuku 新宿 - Take the Chuo 中央 line or Chuo-Sobu 中央総武 line to 東京Tokyo Station then transfer to
the JR Keiyo JR京葉 line and exit at Maihama 舞浜.
Price: ¥380
Time: 39 minutes
From there follow the signs for a 5 minute walk to the park, there's also a monorail but it has a fee (¥250) - see above.
For more amusements, please click the link below: